Amy Hoy and I have been talking about an event for long enough, it's time to put ourselves on the hook and make it happen.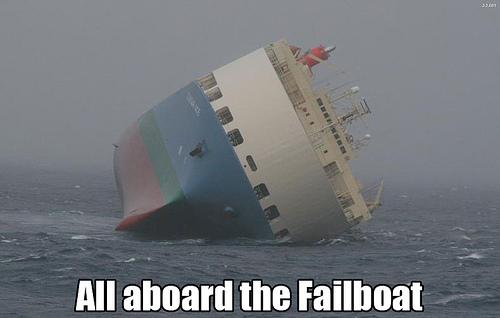 The idea behind FailCamp came from a proposal for LoserCamp.
There's a whole lot of people talking about their successes, because it's easy and glamorous and interesting. OK, well, maybe not interesting. But it is easy and glamorous.
Talking about failures is a whole other ballgame. It requires you to let your guard. It requires you to not point fingers and take responsibility. It's humbling. And most of all, it's educational.
There's not a whole lot to be learned from success, really. The vast majority of successful people are very hard workers who got very lucky. Or, more often, they're hard workers who got lucky after many, many, many previous failures.
We should learn from our failures…but wouldn't it be nice to be in a safe place where we could let down our guards and in a trusted environment, admit to our f*#k-ups, large and small. Colossal and miniscule.
And thus, FailCamp.
We all make mistakes. The best of us learn from them. The best of the best help others learn from their mistakes.
These can be business failures. These can be life failures.
We want your fail.
Amy and our friend Patrick Ewing (the developer, not the basketball player) are kicking in with the legwork/planning.
We've set a date for Saturday, July 26th. Unlike many other weekend events, we're not going to FAIL and start early. It's a Saturday. So plan on 10am.
We're unsure on the final location right now but it will be somewhere in Philadelphia, likely near IndyHall.
We're limiting the RSVP for now, and we may raise the limit depending on demand and interest. So please, visit the Upcoming page and RSVP.